Hello, everyone! And welcome to another Crafty Gals Corner Challenge! For this week, we have 2 awesome sponsors of our Anything Goes challenge! They are:
Prize ~ 1 Digital Image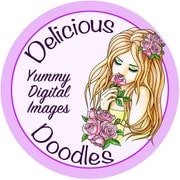 Prize ~ 4 Digital Images
For my project, I decided to make a Tag this time, rather than a card. Tags are one of my favorite things to do. So I used an image from
Delicious Doodles, Lovely Lillies.
To start off with, I wanted to get the shape of my tag down, so I used my Silhouette Portrait for this. I chose a shape with 2 layers. I added a pattern paper from the SIL on both layers, combined them, and did a print and cut. I had already colored my image using my Prismacolors. I love red, so my lilies became the deep red you see Here:
I used all the laces and wedding appliques from the Facebook Group,
Lighthouse Stop n' Shop
(check them out...great prices) and the flowers in the corner are from
Secret Garden Crafts.
The leaf applique in the corner is from Kimberly of
KPKre8tions.
I used hot glue to adhere my embellishments on.
So there you have it. A finished tag! I am happy with the colors of it...hopefully I'll get to trade it with someone soon!
Be sure to check out the challenge! There's a new one every week! And thanks for stopping by!
Blessings, Jeanie Ellis - Scrapbookingmamaw