Hello everyone! Today is the beginning of a new challenge over here at Crafty Gals Corner Challenges! We sure hope you can join us! And here are our amazing sponsors for this week's theme: Anything Goes! The sponsor(s) for this challenge are:
Prize: $20 gift Certificate
SheepSki Designs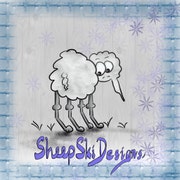 Prize: 3 Digital Images
I want to share with you now my project for this week. As I have mentioned before, I LOVE making tags. I have collected many through swaps, but I sure have a lot I've made still in my Iris Container! I keep them for just the right person at the right time. Now here is my new tag, using
Kasmin
from
SheepSki Designs:
I have to tell you....I love Andrea's digitals! And this one is no exception!
My Process:
I first colored my digital using my markers. Then I cut out a tag shape from my Tim Holtz collection,
Paper Stash.
I got that through
ScrapbookingwithM.E.
Boutique. I then got my
Tim Holtz Brick stencil
and spread
Liquitex Glass Beads
(also from the Boutique) over various areas of the tag. Once I let that dry, I got out my
TH Rusty Hinge Distress Ink
and "smooshed" (for lack of a better word) onto my mat, squirted some water on that, and brushed it over the brick areas on my tag. I love the result! I dried the ink with my heat gun and then layered laces and pearl drop strands on top. At the bottom I added more laces, and a large flower with pearl sprays. At the top you see a hummingbird I bought through through
Reneabouquets
.
I was totally excited about how much the colors all matched so well with each other! Oh, before I forget, I also stained the tie at the top with the same distress ink on the brick. I heat dried it so it would be permanent.
I hope you give a go at making something for this week's challenge! And thanks for stopping by!
Blessings, Jeanie Ellis - Scrapbookingmamaw