Hello once again, crafty peeps! We've started a new week of challenges here at
Crafty Gals Corner.
And we hope you will join us! For this week, our sponsors are: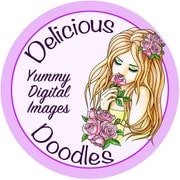 &
I was very excited to do the image I chose this week's project. She's gorgeous! And I know there were are lot of things I could have made with her, but she just needed to be the main feature on a card, in my opinion. She would also look great on a tag (hmmmm....next time?). So, here is my card, u
sing
Beautiful Blossom
by
Delicious Doodles
.
I used all Prismacolors on her, leaving her dress a white. I wanted her to have red hair, so I gave her several layers of red, then took an eraser and put in some highlights in her hair. I thought yellow would go great with her, especially because of the green leaves, so I did the flowers and the butterfly in yellow with highlights of black, added some lace with yellow in it, and adhered some flowers I got from
Secret Garden Crafts. And she was done! No added bling like I normally do....
Thank you for stopping by! I do hope you join us in this week's challenge!
Blessings, Jeanie Ellis - Scrapbookingmamaw