Hello, ladies and hopefully, some gents too! We are starting our first challenge for the month of August with some amazing sponsors! This time, the theme is: TROPICAL COLORS! Here are our sponsors:
Our sponsors this week are: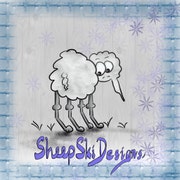 Prize: 3 Digital Images
Prize: 2 Digital Images
Prize ~ 5 Digital images
Wow! It was so hard to pick one image to do for this challenge, as all 3 sponsors are fantastic! But in the end, I have chosen to do Beach Baby by Creative Bug. What a cute title for a cute little image. So here is my card:
There it is, in all it's Tropical colors glory! Lol! I'd say there are plenty of them on there, wouldn't you? I added some diamond glass glitter on the sand to make it more "sandy" looking, but the picture here doesn't show that. However, the shadowing on the sand from the artist, made it look sandy. So...it was all good! I did use Bone China Ink Oxide for the cloudy background.
Blessings, Jeanie Ellis - Scrapbookingmamaw